In online marketing most of the world is probably now aware of Moz (formally SEOMoz), but do we all understand the ideology behind Moz Founder Rand Fishkin's vision for the future of our industry?
"Inspire yourself to be better marketers" Rand Fishkin
I have to be honest that although I'd heard of TAGFEE before, I'd never really fully understood the philosophy behind it. Let's face it, our industry has a pretty bad reputation for being populated by a lot of spam and snake oil marketers, and unfortunately a lot of it is entirely deserved. Whether we like it or not, the biggest problem with our industry is the lack of transparency, poor information and short sightedness of some of those who work in it.
And that's what TAGFEE is all about; it seems Moz are trying to change the whole industry by creating an inspirational, fun and friendly community-based brand that we can all be excited by and feel a part of. This year was the first for Mozcon at the larger Washington State convention centre, in which over 1,200 Mozzers walked in to find a space-themed stage. Apparently the venue change was so that "nobody who wanted to come would be turned away". And when you look at the potential extras this vast venue has, I'm sure Moz will be welcoming several thousand more in a couple of years.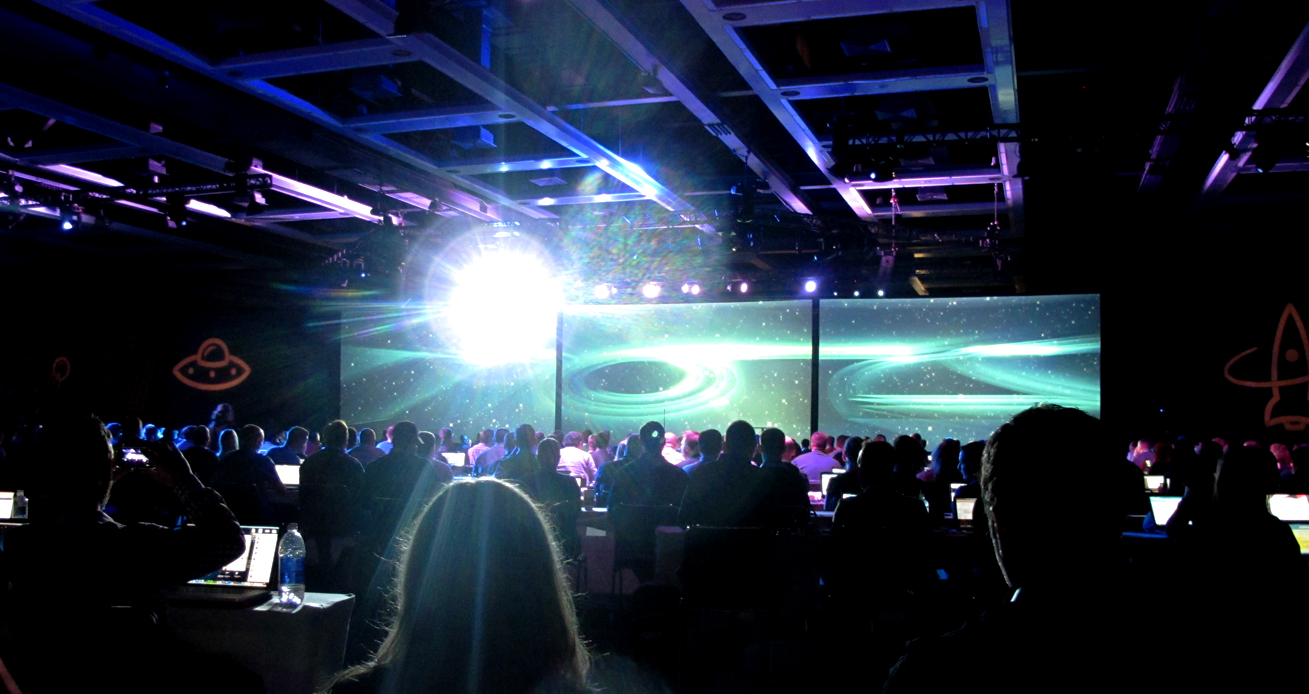 Four of my most memorable presentations of Mozcon 2013 (from speakers I've never seen live before)
All of the presentations at this year's Mozcon were of an exceptionally high calibre. Unfortunately there isn't enough time to go through them all, but a full list of slide decks is available on the agenda page of Mozcon.
I decided to write a few things about four speakers I've never seen before that really inspired me.
Avinash Kaushik – Simplifying Complexity: Three Ideas for Higher ROI
See, Think, Do Framework on Avinash's blog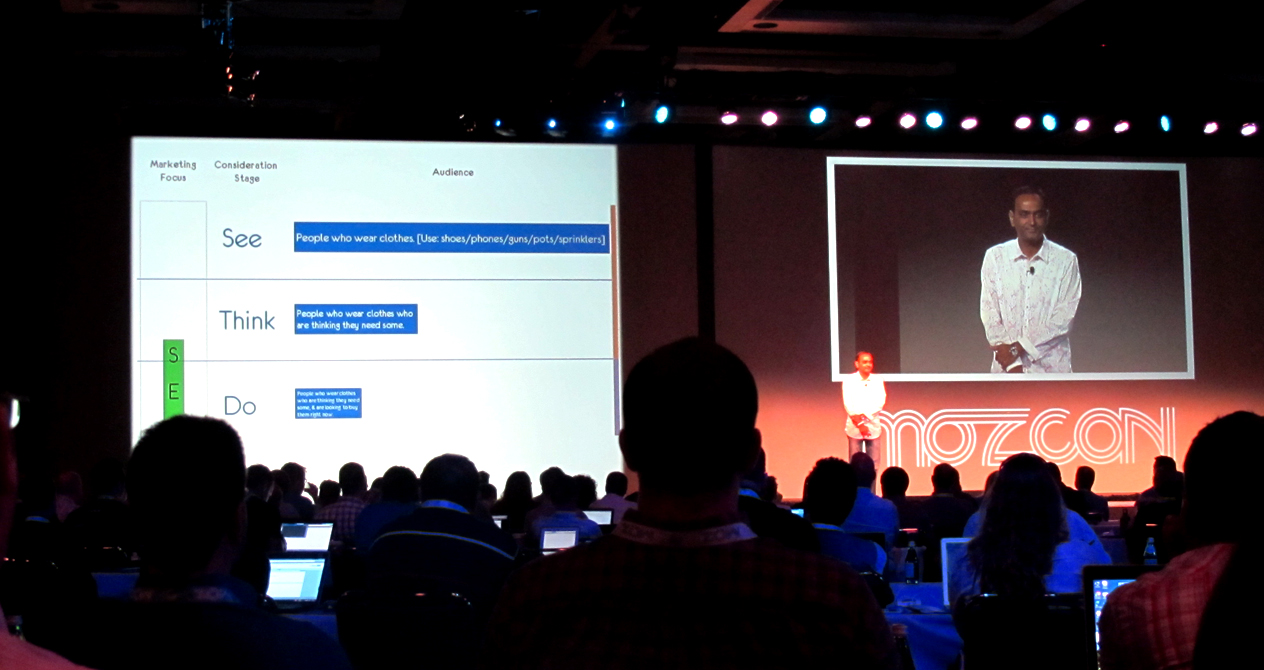 Avinash if famous for his ability to walk-the-walk and talk-the-talk, so I'd been looking forward to seeing this self-confessed hater of all things shit when it comes to marketing.
He started out with a very bold statement: "We have a very narrow view of marketing; I want to expand your view" – which, to be fair, he delivered on fully.
The key part of this presentation was explaining how the world is broken up into three stages; see, think and do. SEO falls into the final stages of think and the whole part of do, while see and most of think fall under brand.  'Do' comes under performance, about which we were given comparative examples of "sucking… when you go to macys.com it feels like you walked into a Kmart". Apparently "not sucking looks like this" – ShopBob." He referenced ways in which video is used to help visualise the product images,in order to help improve conversions of 'flat' products.
If we are as SEOs only focusing on the green line (in the image above), it "will make you poor". SEOs should be focusing efforts on how the channels work together to improve performance across all marketing activities.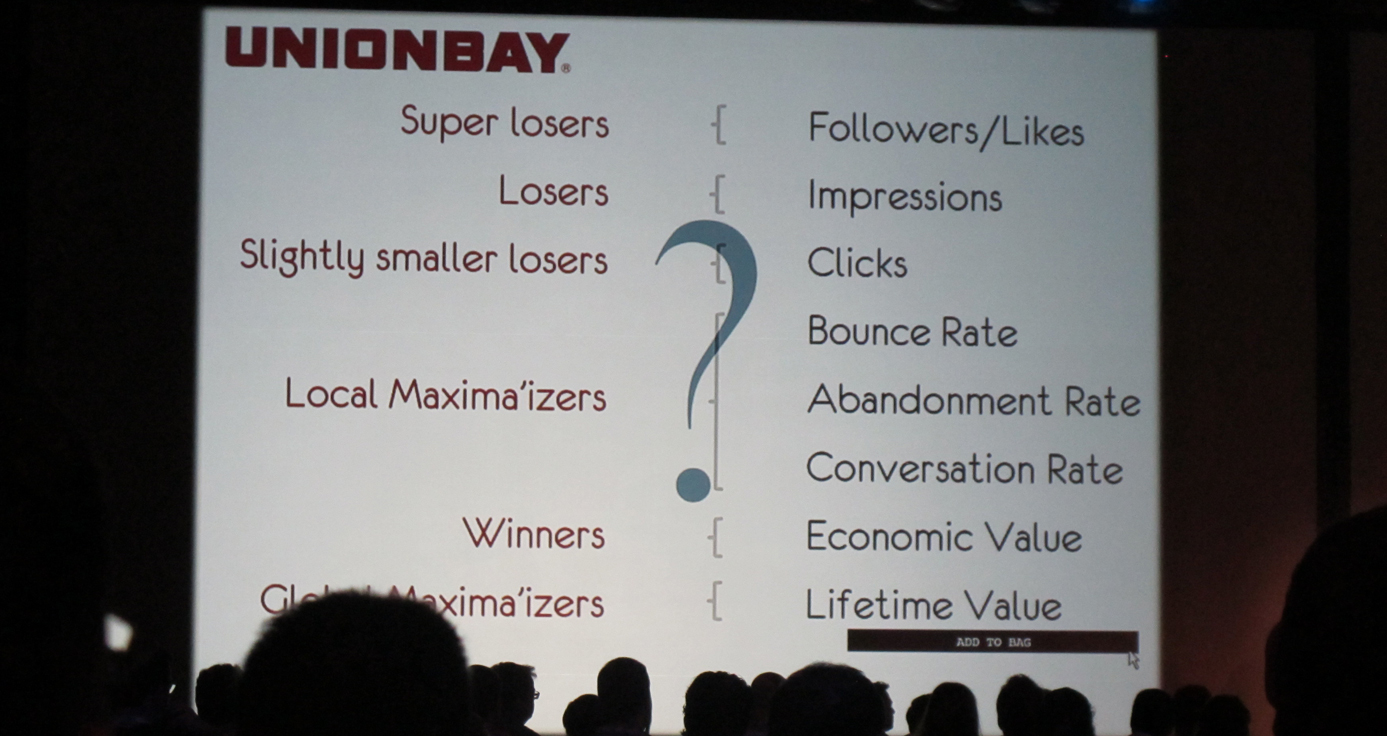 Without a doubt the best quote of the conference was; "If you have a mobile friendly website, congratulations – you've solved the problem of 2009" Avinash
Carin Overturf – How to Moz Lingo: Cross-Team Communication When Crisis Hits
Keeping communications going between teams is something which I know can be hard work from personal experience, and it's an area which doesn't usually receive the attention it deserves most of the time. It was so great to hear that Moz face similar problems with comms.
Carin reminds us that good communication is one of the most fundamental parts of a business, and in both internal and external communications emails are the key.
Top Email Tips
Make sure to include a descriptive subject
Never use sarcasm in an email
Don't include people who don't need to be included
Keep conclusions concise – around 2 to 3 sentences, and make sure it's at the top of the page
If a miscommunication happens write a post-mortem so you can learn from the mistake. Carin also reminds us that we need to communicate the message back to our teams that it's OK to make mistakes (we're only human), and it's really important that people are comfortable owning up to them. If you manage a team, as I do, it's important to remember that the responsibility lies with us and it's crucial not to assign blame.
For external client-facing communications it's really important to keep people informed when there has been a system breakdown, or other issue which affects them directly. People are understanding by nature, but they need to know about it in order to understand!
Carin obviously has a wealth of knowledge about communications and hopefully I'll be able to pick her brains in the future…
Adam Audette – Ecommerce SEO: Cutting Edge Tactics That Scale
I'd been following Adam on Twitter for a while and I was looking forward to this one as he's always got a pretty down-to-earth and accurate view of the history of SEO.
In order to aspire to do better marketing, it's important to remember what we're moving away from as an industry. Adam painted a great image of the old fashioned link spammer sitting in his bedroom.
"SEO was stuck in a mind-set… finding holes in the algorithm"
The key to the first part of this presentation which resonates with me is that "Brands want a sustainable organic presence."  I couldn't agree with Adam more; if brands only knew that what they were doing could possibly get them into real trouble with Google, especially with all the recent link-based spam penalties.
It used to be that more links, more pages, more of everything was best. It's now all about less as more: great content, great pages, great links. But how do you do this for Ecommerce SEO?
Create demographic personas around groups of keywords and start marketing to these people using channels and content ideas which will appeal to them.
At the same time, technical SEO is more important than ever before for enterprise-level ecommerce SEO.
Technical SEO Tips
Crawl resources are finite resources – make sure you're monitoring this
Remember to read your log files (I'm guilty of this sometimes)
Prioritise technical changes on impact and reliability
Only fix server errors when they spike
Use 304 (not modified) server headers on large sites for old pages – this may increase crawl capacity
Will Reynolds – Why the Internet Hates Us and Can #RCS Change That Perception?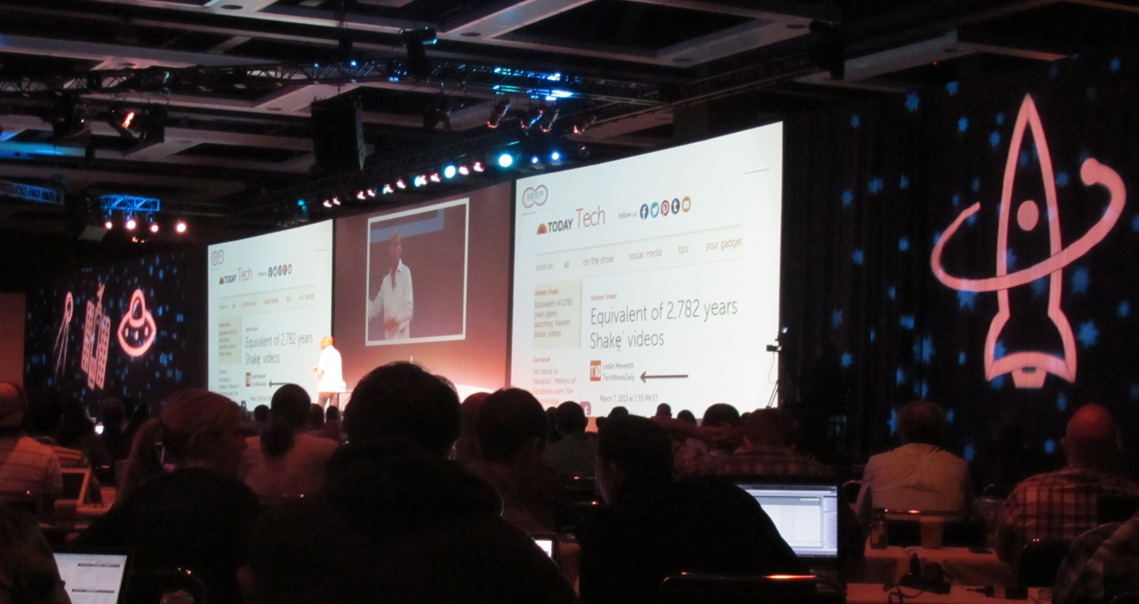 I was kindly given prior notice that this one would be 'the one to watch', by Sha Menz from link removal software company rmoov, and who was also speaking at this year's conference.  And boy she was not wrong…
I'd previously seen reference to hashtag #RCS last year on Twitter, but I hadn't fully understood how the phrase 'real company shit' had in fact taken the SEO industry by storm. Will from SEER interactive has a refreshing sense of honesty about our industry, and mixed together with his great sense of humour, I too bought into the #RCS on the spot.
After so many seasoned SEOs changed their job title this year to 'inbound marketing blah blah blah', it was refreshing to hear Will emphasise: "Change what you do rather than just changing your title" This gets you a #hi5 sir! I wonder how many references there will be to "inbound marketing" on Linkedin by Mozcon 2014? It currently stands at nearly 200,000!!!

Will has exceptional people skills, which makes him a perfect match for the new era of SEO (getting buy-in at top level). During his presentation, Will started out by telling the audience what they know but don't like to admit: "SEOs are lower down the food chain" compared to other marketing disciplines. An example given was how he recently spent 6 hours in a meeting to get a single 301 redirect for a bank. This is 'real company shit', he's right, and sometimes it's hard to distil change in a company – to let that 'SEO guy' have a voice higher up at 'the big table'.
Top Tips
Use Evernote to keep a note of all your competitor's email campaigns
Check to see when pages get updated using Page2rss.com – you can use this combined with  Fresh Web Explorer to alert you when competitors get new links
Set up Twitter filters to find when journalists are researching a story; "for a story", "on a story" "researching a story" etc.
Find confidential documents (note: this doesn't work in Google)
Confidential site:[client] filetype.pdf
My Takeaways from Mozcon 2013
I walked out of the third day of this mesmerizing conference empowered with a sense of why we need to be better marketers. It's not about being 'just average' anymore; it's about being the best and never settling for second best. Average content, links, social media, products and services don't (or won't do for long) work any more, and we as search marketing professionals need to drive change in our industry.  There is no point doing 'stuff' which we don't really care about and that we know won't help someone grow a brand.
On my flight back to San Francisco from Seattle I settled down with this month's Wired magazine to find an awesome article about Dean Karmen. He is the inventor of the new Slingshot – a water vapour distillation system, which aims to give clean drinking water to the world. I came across this quote by Karmen in the feature: "Life is short… and when I look back, I don't want to think I wasted some of this life doing nonsense."
And it hit me, how many hours have the SEO industry as a whole wasted, writing shit articles, keyword stuffing the hell out of websites and building endless links on rubbish websites?
It's pretty depressing that all that time could have been spent adding value, rather than chasing the algorithm. Don't get me wrong, it's not just the SEO industry that's responsible for all the spam out there – companies that were willing parties to these activities are also culpable. With delusions of 'quick wins' and horrible phases like 'bang for buck' being more important than sustainable, safe, long-term growth. To be fair to the guys at Google, they have been offering the carrot approach for a long time and it seems that only now when they use the stick method, in the form of mass Google penalties, is the message finally hitting home with many!
For those who don't know me my name is Martin Woods, a UK based online marketing agent located in Leeds and London.