Having attended the SAScon conference in Manchester last week, my head has been buzzing ever since with new exciting ideas for Social Media and search engine optimisation strategies. The main theme that I took away from this year's conference was, "it's not just what you talk about that's important, it's also who's talking about you." I suppose this is exactly the definition of social media and web 2.0.
After the recent Google algorithmic update named 'Panda' in April (for the UK) I find it quite apt that this update carries so much weight toward the 'social' metrics used in the algorithm. The official rollout of the Panda update in the UK was the 11th of April, although from my personal experience (with access to a large amount of analytics data for over 1000 clients) a large proportion of this update was being tested in stages in a lead up to this date. The importance of social metrics in the Google algorithm has not been a question of if, but when.
Search algorithms are a constantly evolving equation and Google's latest attempt to get in on the social voting action seems to be gathering pace. Searchengineland.com has recently published an insight into how the Google +1 voting system will integrate with their existing range of tools such as 'Google Webmaster Tools'. The problem with any new system is the amount and quality of the data being used, and starting from scratch is hard.
Existing platforms such as Twitter and Facebook hold so much data, it is inevitable that Google will try to use this data to fill the void while it collects enough of its own data for Google +1. Whether or not Google chooses to use a mix of Social Media data for it's +1 search algorithm long-term, only time will tell, but recently I have been amazed at the amount of 'personalised SERPs' containing Twitter influenced positions.
The examples below show how who you follow on Twitter is influencing personalised SERPs. The first is my own personal account and the second is the company SEO account. The final example is non-personalised SERPs for 'SEO blog'. This clearly illustrates that the benefits of driving traffic via twitter are now not only limited to 'click through' from Twitter; they are also boosting traffic from Google SERPs, helping to re-engage with existing clients, customers and followers.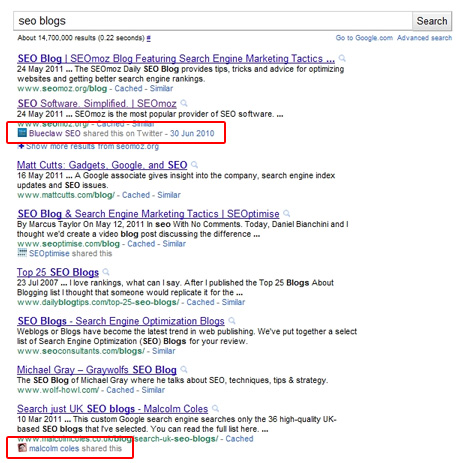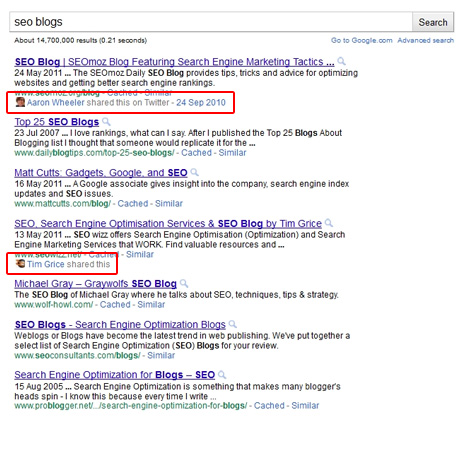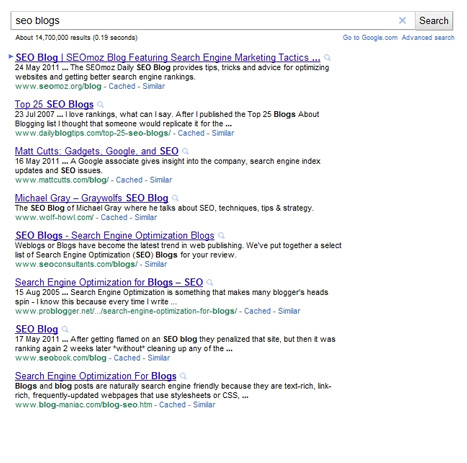 Obviously this is not a highly in-depth test with regards to social voting and it's based on 'who you follow' on Twitter as opposed to a public social voting system. However, it does show that Google are certainly (in my opinion) testing the water as regard the possibilities of private/public socially-influenced SERPs.
So, what conclusions can we draw from the Panda update?
As for anyone who works in online marketing, it's certainly all about search and most of the old ways to 'optimise' a site for search have had their power reduced or removed altogether.
Say 'goodbye' to easy, quick win solutions and say 'hello' to quality social votes!