What was the Penguin 2.0 update?
One of the first things, which I can't emphasise enough, is that the Google Penguin 2.0 update, like many of the updates and iterations before it, is not a penalty at all, but an algorithm. These updates are simply a way of re-analysing data to improve the quality of SERPs (search engine results pages) for users using new algorithms and metrics.
It is important to understand this, as it is fundamental to devising a strategy to deal with Penguin 2.0. If you have been hit by a Google penalty, it will require a change of mindset in how you and your company approach search engine marketing in the future.
[blockquote]You will need to stop trying to 'game' search engines for the short term and start focusing on a long-term view to online search marketing.[/blockquote]
In my opinion
You'll notice here that I refrained from using the word SEO; not because I dislike using the word like many of my peers, but more to emphasise the point that it's no longer just about focusing on SEO and ignoring other channels such as social.
The sooner we as marketers commonly adopt this approach, the better it will be for the industry. Sure, we'll have people who specialise in fields such as content, link removal, strategy and analytics, but we need to remove the blinkers from not just ourselves, but our clients too.
Don't panic
I know that this probably isn't going to reassure you at this point, but it's important you don't make kneejerk reactions.  If you're either dealing with a manual penalty, have been hit by a Penguin algorithm update, or are conducting a risk assessment – let's be honest, it can be a pretty stressful time.
Remember, it's all down to experience; if you don't have it personally, then talk to someone who does. Google spam penalties are not new; it's just that Google sent you a message in webmaster tools before. I personally had been helping to remove search engine penalties for years before Penguin.
Talk to the right people
The first thing you need to do, like all problems, is talk to someone (or ideally multiple people). The consultants I highly regard are all those who take a pride in their jobs and are more than happy to give some initial help and advice for free, simply because they enjoy helping people.
Be careful however, as the SEO industry employs thousands of sales people that will tell you that you don't have a penalty, and that they can get you 'back to those number one rankings' in a couple of months. Sometimes it might be what you want to hear, but in truth, run a mile  if anyone says something like this. I can't stress the importance enough of getting the advice of professional and quality search marketers.
The worst thing you can do is make the wrong strategic decision before understanding the facts!
On a side note, don't just Google something like 'Google penalty removal experts' – read and approach communities such as the thought leaders on the brilliant Moz community (formally SEOmoz)
Until now what has been the focus of your SEO campaign?
Bought vast quantities of links? Then you're highly likely to be in trouble!
Please don't get me wrong – not all SEO companies and consultants will be feeding you bad information and/or lying to you, but many will have been over the years. Now is probably the most important time ever to check up on what they're doing for their money. Even if you haven't been affected by Google Penguin 2.0 yet; if you've employed an SEO to work for you in the past, or have one working for you at the moment, then things you may still be affected by subsequent Penguin updates. It's far better to be safe than sorry!
Stop breaking the Google T&Cs
Let's be honest, there are a lot of SEO agencies out there that have made a lot of money through techniques that breach Google's search quality Terms & Conditions over the years. These are not just limited to off-site activities, but on-site as well.
Google has clear Quality guidelines as to what and what isn't acceptable.
Avoid the following techniques:

Automatically generated content
Participating in link schemes
Cloaking
Sneaky redirects
Hidden text or links
Doorway pages
Scraped content
Participating in affiliate programs without adding sufficient value
Loading pages with irrelevant keywords
Creating pages with malicious behavior, such as phishing or installing viruses, trojans, or other badware
Abusing rich snippets markup
Sending automated queries to Google
If you're worried about Penguins and Pandas then even if you haven't been affected yet, it's time to change your attitude to SEO.
While many of these tactics may still work on disposable domains (such as the Payday loans), there are still many people carrying all kinds of other highly dated SEO 'tricks' in the belief that they still work.
In fact, one of the tactics which I hate the most and have had endless discussions over the years with former BBC Analytics analyst,  Gerry White about is keyword stuffing (AKA writing a keyword density). This tactic will simply add a position-based penalty in the SERPs for the keyword or phrase.
You could be sitting on a time bomb
If you've been paying a set amount of money to an SEO company for many years and have got results without building your brand, then there is a very good chance that you're sitting on a backlink based 'time bomb'.
Previously you could 'get away' with a lot more manipulative SEO tricks such as link spam, as it was quite hard to get a manually-applied link spam penalty. However, with updates like the Penguin 2.0, this anti-spam algorithm is much better geared toward not just identifying and devaluing links. In addition to this, it is also rather good at flagging websites for manual review from the search quality team.
If you were one of those webmasters who received messages about unnatural links in the past year, then that was Google giving you a heads up! If you didn't receive one and have been using a cheap, spammy SEO company, then you should still be taking this seriously.
How obviously 'SEO'd' is your link profile?
Unfortunately, one of the biggest flaws to the original Google algorithm was that it struggled to understand the content of a page outside of the matching search query text;  leaving it open to significant amounts of abuse.
Perhaps one of most important metrics for years was the anchor text used in a link to make the page/website it pointed to rank highly in Google. As such this was the most commonly abused metric and the easiest to identify. In fact, long before the Penguin update I talked about the risks of anchor text in your backlink profile.
Check your backlinks for free using Majestic SEO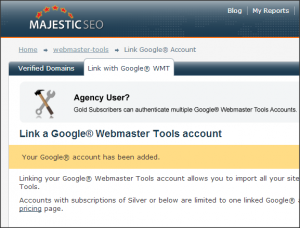 As I mentioned earlier, the Google Penguin update is algorithmic and not the actual penalty. If you think that you might have a dodgy backlink profile I would highly recommend having a look for yourself in a third party link analysis tool such as Majestic SEO.
Dixon Jones and the guys over at Majestic SEO have been kind enough to give you all the data about your domain for free – all you have to do is sign up for a free account.
The first thing you should do is have a look at your anchor text, to see if the most commonly used anchor text in the backlinks pointing to your website is commercial rather than your brand. This isn't by any means the only metric used by Penguin, but it's a good place to start. If it's looks obvious to you, then it's obvious to Google!
How to identify if you've been hit by Penguin 2.0
Penguin 2.0 rolled out on 22nd May 2013 amongst noise from the Google PR team and the online search community; webmasters started reporting the impact less than 24 hours later. This was the fourth and perhaps the most brutal of the iterations of the Penguin update so far.
The most important thing you can do before rushing into anything is to interpret the data. From this, you can work out what went wrong; here are a few questions you need to answer:
Which algorithmic update were you affected by? You can't cure something if you don't know what it was caused by!
Have you been affected by multiple updates? The older the website, the more chance of you having multiple penalties to worry about.
Do you have link devaluation? If your rankings suddenly fell without warning then they may have just been devalued, rather than penalty based.
Do you have a manual penalty? If your rankings dropped after a couple of days then it was likely to have been manually reviewed and a penalty applied
What type of penalty do you have? Is it a site wide, anchor text or page level penalty?
Analytics
This is going to give you an idea of if your traffic has been impacted for specific terms. You'll probably have a good idea of what are your non-brand commercial keywords are, so we now need to look at these first.
If you don't, then look at the anchor text of your backlinks and go for one of the ones most commonly used; this will be obvious if you've been using an old fashioned SEO company for many years who didn't care about risk to your domain.
I'm going to use Google Analytics for the purpose of this blog, but if you don't use GA, then use the same theory and apply it to your analytics package.
Do you have an issue with exact match, or phrases?
We're going to set up a couple of keyword filters; one for exact match new visitor keywords from organic Google search traffic, and one for keyword phrases using the keyword. This will enable us to see if the devaluation is limited to the exact keyword, or worse, phrases used.
Remember, this is by no means definitive, as much of the historic data in your analytics is based on an algorithm which wasn't included; (not provided) keyword data, personalised search, Venice amongst others, but it's a good indicator. It is possible to make rough calculations on how much provided data has taken away by looking at your overall brand/non-brand split and increasing it accordingly
Basic analysis
Exact Google organic keyword new visitor referrals using Advanced Filters
Create an advanced filter for your commercial term looking at exact match new organic Google referrals.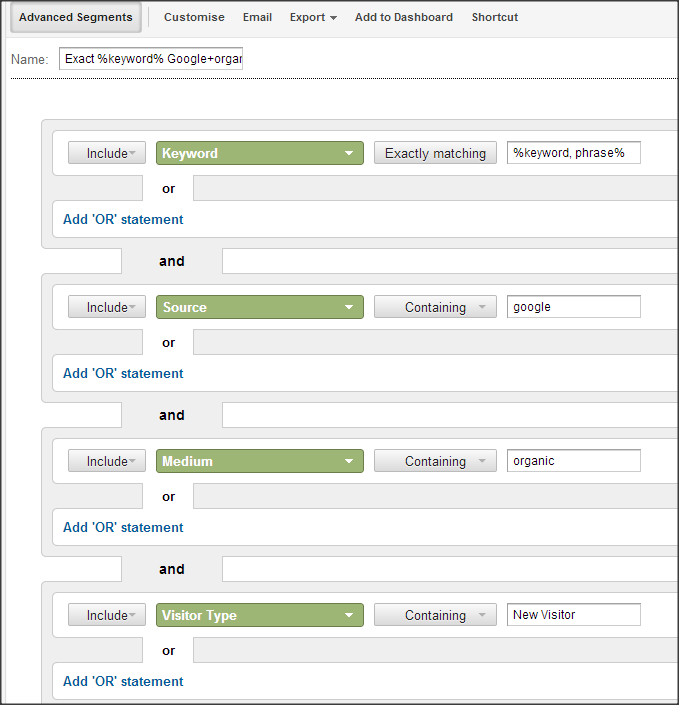 Compare the period around updates to other years to identify if your problem could be the update kicking in. Remember, if you have been the victim of a manual spam penalty this could have been applied several days if not a week after the update on May 22nd 2013.
On a side note, if you're working on a site with very high traffic levels you'll be working on sample data.  Try increasing the precision in the setting in the top right corner of GA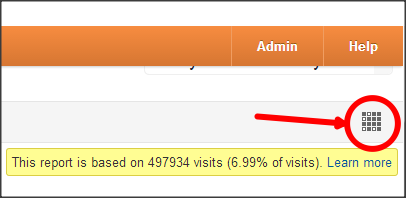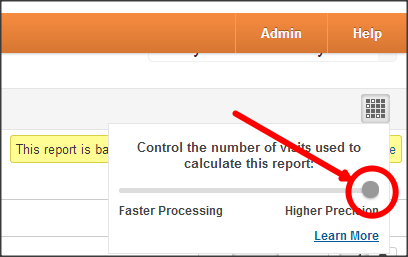 Advanced Analysis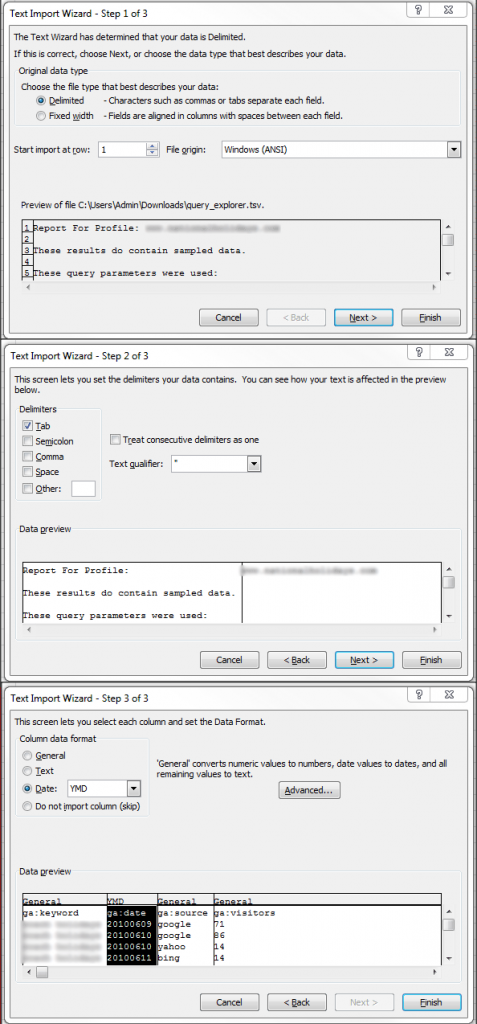 Exact Google organic keyword new visitor referrals using Google Query Explorer & Excel
Sometimes it's good to get away from Google Analytics as it just can't handle what we want it to do, so we're going to extract the data using Google Query Explorer 2.
You can use Google Query Explorer to download this information by modifying this report
Download the file query_explorer.tsv
Import it into Excel, making sure to highlight the second Column and set the Date format to YMD as this will save issues later (see screen shot A1 if needed)
Delete the first 15 or so rows; ga:keyword should now be in cell A1
Save the file as an Excel Workbook file (you can do this the other way around in Google, but Excel is usually quicker)
Create a new fusion table in Google Drive; if you haven't used them yet, here's some more info. And then start playing with the data – what patterns can you see on or just after the Penguin updates?
Tip: Sixtrix Google Updates tool lets you quickly check the overall visibility of your website following an update. Note, this is a very basic overview and can be highly inaccurate.
Google Webmaster Tools
Used in conjunction with other tools, this is probably the most important tool to help you remove a Google penalty. It will act as your communication tool with the Google web quality engineers, as well as give you some of the data you'll need to remove bad links and disavow the rest.
Do you have an algorithmic issue?
Whilst you might not want to raise your head above water with Google, if you've been doing a lot of SEO in the past, sometimes it's a good idea to ask. If you don't have a penalty on your account you'll get a reply like this from filing a reconsideration request: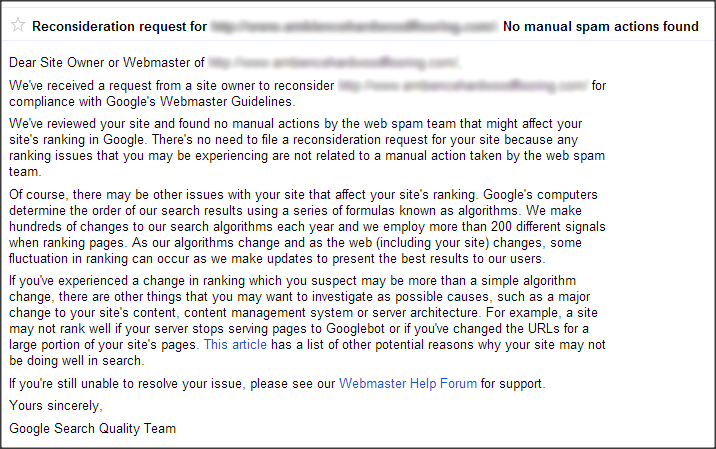 Manual Penalty Revoked
After a lot of hard work, endless outreach emails and link disavow uploads then you will see one of these waiting for you: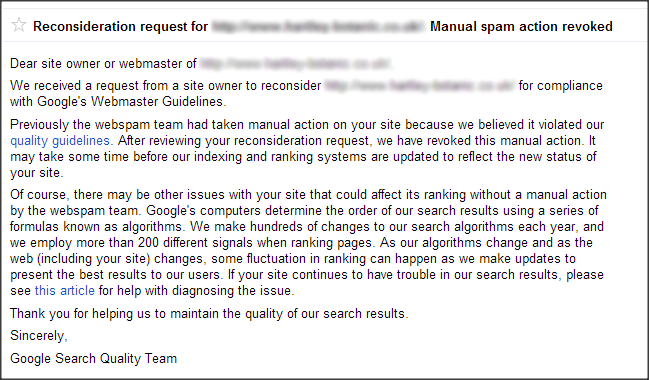 If you're based in the USA and would like to speak to me about Google penalties, link removal, or anything at all for that matter I will be attending Mozcon 2013 in Seattle 8th – 10th July.
Following on from Mozcon I will also be speaking about Google penalties at two locations on the Link Removal Roadshow; Seattle 11th July 2013 & San Francisco 16th July 2013