Last night I was lucky enough to take part in the 2011 Simon on the Streets sponsored sleep-out in aid of the homeless in Yorkshire. I must admit as the day grew nearer, I started to become slightly apprehensive about what to expect.
I have often walked the streets of Leeds at night totally unaware of the silent population sleeping in doorways, under bridges and down alleyways.
Now was the time to learn more about the great work done by Simon on the Streets and discover how they really do help change lives.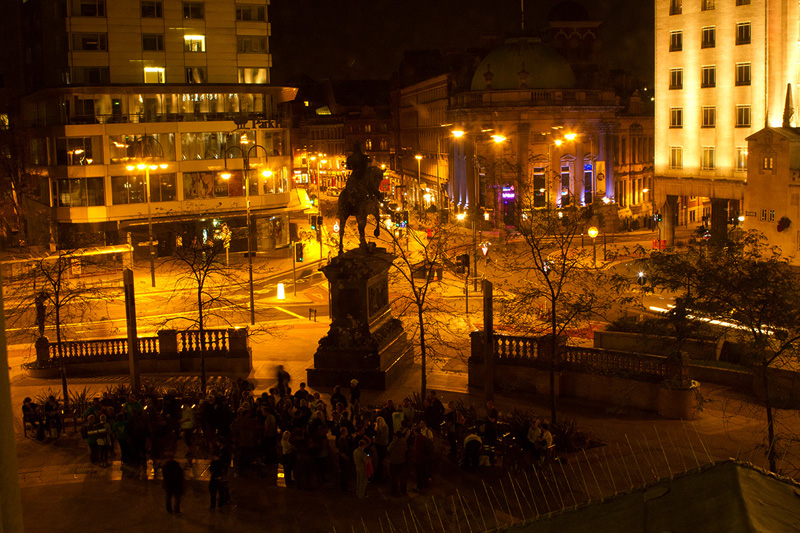 The evening commenced in city square, opposite the old post office, at 9:30pm and soon turned in to a large gathering of genuinely friendly, bubbly people eager to break last year's fundraising total.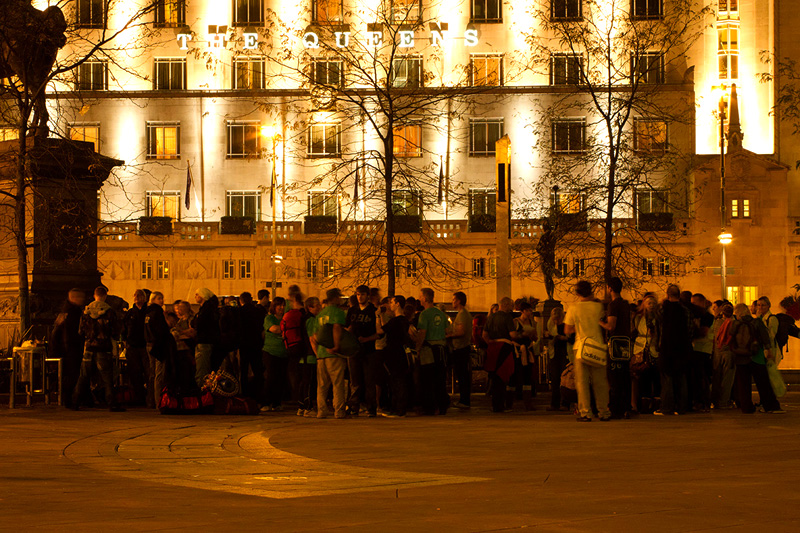 There was quite a contrast between those making the most of the unexpected warm evening by sitting outside the exclusive bars in city square, and the growing number of people preparing for a night sleeping rough nearby!
As I was busy tweeting away with the hash tag #iamwithsimon I was aware that we still hadn't made our target of £500. Not being a quitter, I concentrated my efforts to abuse Social Media for a good cause. I wasn't about to let a mere £40 defeat me!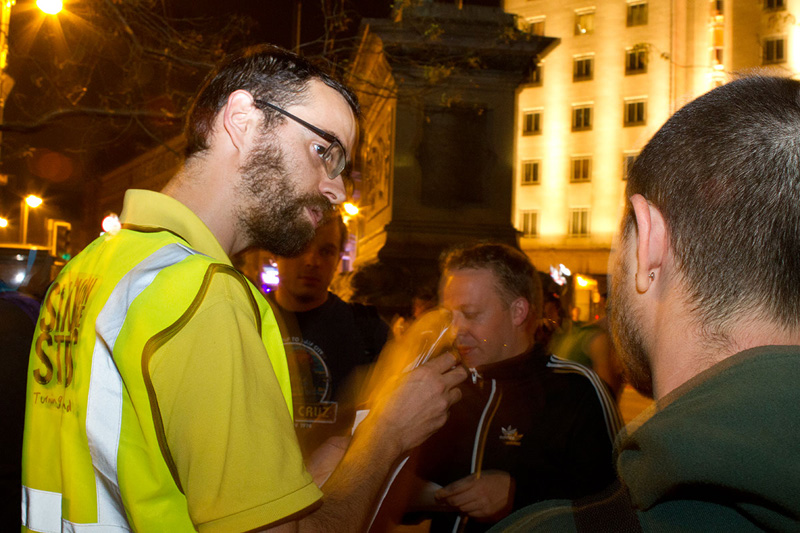 By the start of the "walk of awareness" down to Leeds Parish Church (home for the night) the collective effort was a frustrating £20 short. It was starting to get late; surely someone would come to the rescue?
We split up in to two groups; one to check out our digs for the night and the other to walk around some of the favourite spots to bunk down for the night in Leeds (if you don't have a home). Jamie, our guide, himself a previous rough sleeper and drug addict, explained the stark reality of a life on the streets.
Jamie – Simon on the Streets: "many of those we speak to each night have experienced problems in their lives such as physical or mental abuse as a child, drugs, alcohol, family break downs, unemployment and countless others. One of the most important aspects of the job is to establish trust; we are not here to tell people what to do, but simply be there to help people who want to be helped."
We were shown where to look for the homeless of Leeds; somewhere quiet away from the drunks, thieves and even the police who are forced to carry out spot criminal record checks on anyone sleeping rough. One popular location is down a tunnel near the royal armouries, by day a popular walk way along the canal, but by night a popular area for the less fortunate.
Our Simon on the Streets guides told graphic stories of people they have worked with over the years; those who have been failed by society in one way or another. Government agencies unable to help solve their problems, continually being trapped in the repetitive cycle of being arrested, bailed, fined and then eventually sent to jail as they have no means in which to pay the original fine.
I am sure that there will be those out of you there who think you have an answer for all of this, and if you do I encourage you to get in contact with Simon on the Streets and go along to their soup van on a Tuesday night – I'm sure that you will change your tune!
It was at this point in the night I had the last confirmation email that I was waiting for; an email informing me that someone had donated the last £20 so we could hit our target (thanks Rachel & Dougie) We did it! Thanks to everyone who sponsored us, we hit our target of £500!

You can still make a donation, it's never too late!
The end of the evening – time to get some sleep!?
We were advised to take a sleeping bag as it gets really cold at night. I think I was slightly naive when in my wisdom I made the conscious decision not to take one. I wanted to really feel the cold and experience sleeping (or lack of) in my clothes in a cardboard box.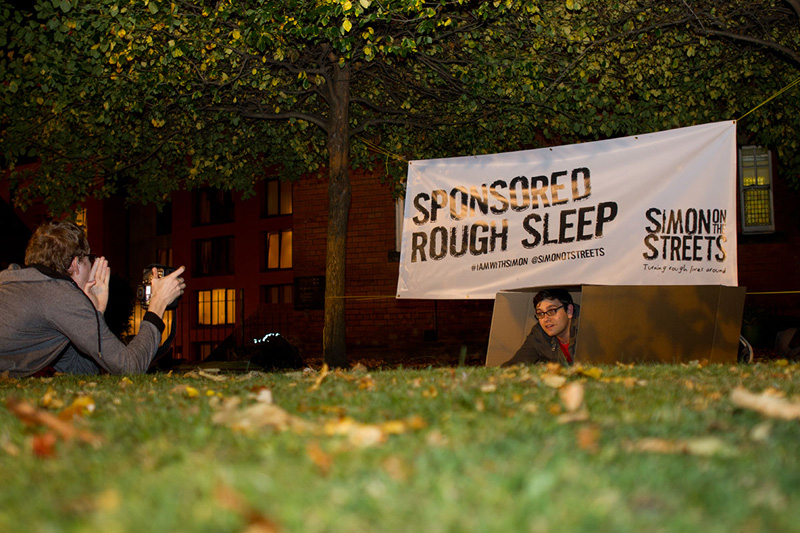 The night started off relatively warm, but how quickly this changed. By 4am it was so cold I was unable to sleep. The loud noises of a city at night make it impossible to get into a deep sleep and the hard cold floor means a piece of cardboard doesn't stand a chance against it.
At last – morning – I had made it. Tired, cold, hungry and aching everywhere, all I wanted to do was go home. After an amazing bacon butty cooked by Chef Stephanie Moon and some great students from the Leeds City College I had exactly what I needed to get me to work! (Thanks guys!)
I would like to thank the following people for their generosity;
Natasha Kidd
Simon Bellfield
Fergus Clawson
Andrew French
Ryan Scott
Pam Francis
David Wilding
Michael Litson
Anna Francis
Jonathan Hirst
Lisa Shaw
Sarah Copeman
Gavin Rhodes
William Cheng
Maria & Gerry White
Benjamin Brady
James Holmes
Mandie & Nick
Gregg Turner
Malcolm Slade
Christine Jackson
Amanda Kouwenhoven
Diane Elliott
Chris Talyor
Dougie & Rachel Hamilton
Graham Lydiatt
And the other Anonymous donors
Simon on the Streets – thank you all!